Sorry I haven't posted much this week--me & Rueben are sick :( I have the flu & he has a cold & ear infection..& let me just say--I absolutely hate being sick!! Anyway, here are today's hops :)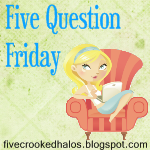 1. If you could change one thing about yourself what would it be?
Honestly--I would probably change my size, I'm really tall and overweight (!) so I would like to be a little shorter and smaller :)
2. Write about a time when you got lost.
I really don't remember a time I've gotten lost.. unless you count a time when I got my eyes dilated and went in the men's restroom at Wal-Mart!
3. Camping or 5 star hotel?
That's a toughie! I haven't went camping since I was a kid, even though I would love to, but I think after a day or so I would definitely want a shower!
4. Have you donated blood?
No, actually I haven't. The only time I have been close to having an opportunity to donate, I was pregnant :( So I just helped out at the blood drive instead.
5. Do you have a budget or do you 'fly by' most months?
Well each month, we pay our few bills on the first, or whenever they're due, then we just fly by the rest of the month.. We really need to start saving!